I was completely shocked and a bit destabilized yesterday when Google announced that they are closing Google Reader down after July 1st, 2013.
I, like many others, depend on Google Reader for daily viewing to get the latest news and content delivered under one "house" without having to view thousands of sites manually to read what they have added since my last visit. Without RSS feed readers, you have no idea if a site has been updated with new content since your last visit and you'll often spend a lot of wasted time browsing sites looking for niche-specific news and information.
In fact, I liked Google Reader so much that I recently integrated it into the RSS link on the right sidebar with my new site redesign. I guess that was a mistake and not sure how I will replace it quite yet. I don't like linking to the RSS feed directly on my site because every browser treats it differently which isn't the best user experience.
I've been looking for solutions for replacing Google Reader and came up with the following list of services worthy of your consideration.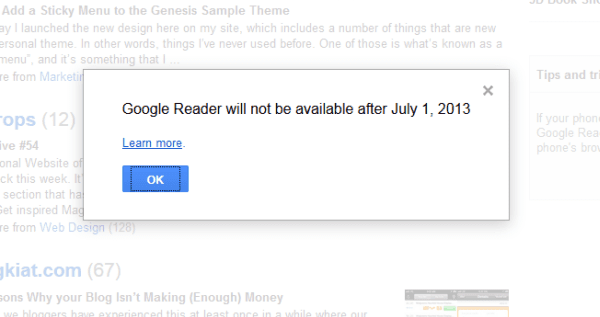 Desktop RSS Feed Readers
These options are best for those who only need to view RSS feeds from one desktop PC without the need to have access to the news on other devices such as tablets and smartphones.
FeedDemon Windows Desktop RSS Reader
FeedDemon is definitely worthy of your look and is, in my opinion, one of the best RSS feed readers for desktops. This RSS reader has two options:
FeedDemon Lite – Free but displays advertisements.
FeedDemon Pro – Costs $19.95 with upgrades after that costing $9.95. Benefits include ability to quickly receive and view new articles via "My Stream," ability to download multimedia files, prefetching, content filters, and ability to subscribe to feeds that require authentication.
FeedReader Windows Desktop RSS Reader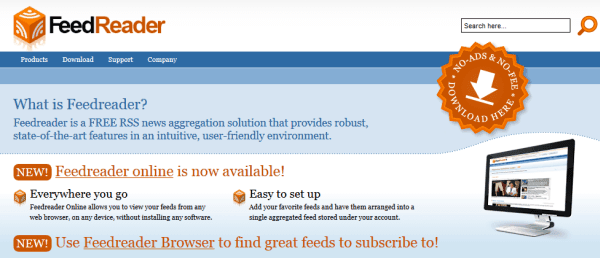 FeedReader is another great solution because it is totally free and requires no fee to use and has no advertisements. Again, the drawback is you cannot view your feeds anywhere else but on the PC you install the software on with no free way to synchronize your feeds across multiple platforms.
They do offer FeedReader Connect which allows you to operate a personal server for your RSS feeds that you can then connect to with other devices including smartphones and any other mobile device. The cost is 39 Euros.
NetNewsWire Mac Desktop RSS Feed Reader
NetNewsWire is a great solution for those on a Mac OS that needs a simple solution. This comes in three flavors, the Mac, iPad, and iPhone.
Mac Version – There's one version available. Free advertiser supported application or you can pay $14.95 and remove the ad.
iPhone – Two versions. NetNewsWire in the App store is free and displays ads and there is also a paid premium version available for $4.99.
iPad – There's one version available called "NetNewsWire For iPad" that costs $9.99 with no free version available.
Liferea Linux Desktop RSS Feed Reader
Not to leave Linux users out of solutions, Liferea is one of, if not the most popular desktop RSS readers for Linux users.
Replacements for Google Reader – Access Anywhere
For those of you, like me, who read news on the go, whether it be from your smartphone, tablet, or desktop, you need an RSS feed reader that is online and ready for you when you need it. This is where Google Reader shined and was my favorite go-to service for all of my devices. Now that the service is being shut down, lets find a replacement!
Here's my top list of RSS Feed Readers you can choose from:
Feedly
Feedly is a great RSS reader that is available on any device you can throw at it. For those migrating, check out the migrating from Google Reader blog post from Feedly. They promise a seamless transition and looks very promising to be a contender for your RSS feed reading needs.
Feedly looks really easy to use and I like the way the feeds are organized. They offer web, Android and iOS apps, and can interact and import your Google Reader feeds.
The drawback is that if you are looking for an exact replacement with absolute simplicity, this may not be for you due to the storyboard-esque feel to it.
Newsblur
One of the reasons I love this one is that it looks and feels very similar to how Google Reader works. There's a list of all your RSS feeds on the left, you click them, and the new stuff is presented to you. The biggest issue I've found so far is that they only allow 64 feeds with 10 feeds allowed in the "River of News" feature, but for just $1 a month, this service becomes a powerhouse that allows unlimited feeds, unlimited rivers, 10x faster news feed updating, and more, including share options and protected / private shares.
Newsblur offers a web application, iPad/iPhone app, and Android App.
The Old Reader
They describe themselves as "the old Google Reader but better" with the design and layout very similar to the old way Google Reader used to look around the year 2011.
The Old Reader showed signs of being pounded by the influx of people looking for alternatives yesterday but look like they are doing much better today. The drawback is that it is web-only with no mobile application available. However, if you are looking for that nostalgic feel and just need a simple Google Reader replacement, this one might be for you.
Flipboard
Looking for new-age RSS feeds formatted like a magazine that you can flip through for your news? Flipboard is likely the perfect fit for you! The issue I have with this service is they do not offer a desktop version that you can use to browse your storyboard-esque feeds while on the work PC.
For those that don't need something for the desktop but like to browse your feeds on mobile devices only, check out Flipboard!
Fever Self-Hosted RSS Management
Rounding out my list is Fever. This one is at the bottom because it takes a lot of effort on your part to get it up and running. Fever is self-hosted and displays your feeds based on a hotness temperature that looks at what is being talked about the most.
You will need to host this on your own server so for those that have your own website or webspace, this might be something you'd be interested in. The cost is $30 and takes RSS feed management to a whole new level. You'll need PHP and MySQL to run it.
If interested, check out the video that is available on the main page of Fever for an in-depth look at what this software can do for you.
Final Words
I honestly hope Google reconsiders their decision to close Google Reader. For the entire day yesterday, their announcement made me feel uneasy and had me questioning my dependance and reliance on Google as a whole. It shook me up to the point that I went and signed up for a Microsoft Outlook email address to have a backup to Google's Gmail service just in case.
I've seen Google close many services over the years but I've never seen such a massive outcry from a service being closed before. There are many people voicing out including on Change.org where there is an active petition to save Google Reader. Not to mention watching my Google Plus explode with thousands of posts from upset users who, like me, depend on their Google Reader service to quickly get up to speed on the happenings for the day.
What are your thoughts about all of this? Do you have an app or solution that I missed?