Special Offer: WebHostingChoose has an exclusive discount that saves 30% off on shared web hosting with InMotion Hosting and includes a free domain registration!
Simply click here and activate the discount
. InMotion comes with a free auto-installer of WordPress which allows you to completely bypass this step!
Note: You may skip this step if you use InMotion Hosting or Bluehost as your web hosting provider because they provide access to an automated WordPress installer that will install your WordPress site with just a couple clicks. Proceed to the WordPress Dashboard demonstration video in lesson 4.
Setting Up WordPress – The Preparation Work
In order to setup WordPress manually, there is a bit of preparation work you need to do beforehand. Make sure you:
The Five Easy Steps to Install WordPress
1) Download WordPress from WordPress.org
Head over to WordPress.org and download the files directly to your computer. For Windows users, I'd recommend downloading to your desktop and then you can double click the file and extract the files.
2) Upload the WordPress Files to Your Web Hosting Server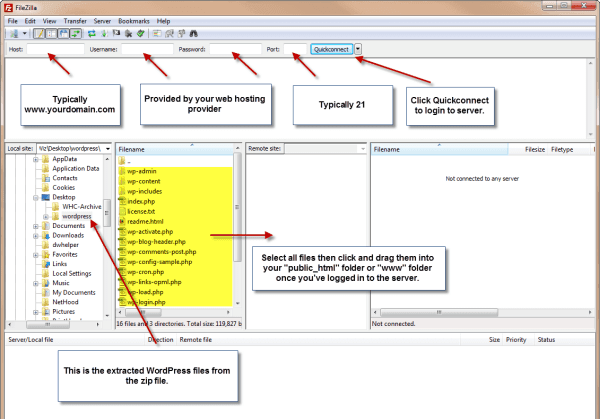 The video shows you how to transfer the files with Transit as your FTP client. If you use FileZilla like I do, then use the above diagram to do your transfer with FileZilla.
3) Create a MySQL Database and User
As long as you choose a web hosting provider that uses cPanel as their control panel, you'll have no issues following along with the video demonstration above.
What I recommend is opening Notepad or your favorite text-based editor and copy and paste your credentials as you go along. Use a template like this in Notepad:
Database Name:
Username:
Password:
Tip: Make sure you do not skip the permissions step at 4:40 in the video. This step is absolutely crucial for the process to work. You need to grant your user to have access to the database or you'll get a permission denied error at step 5 below.
4) Configure WordPress to Connect to Database
Now that you have a Notepad file will your credentials, you'll need to rename the wp-config-sample.php file to wp-config.php and edit the file with your credentials.
The last step is to "salt" your WordPress installation with impossible to guess unique phrases using the WordPress secret-key generator.
Once finished, save the file and transfer this file to your server where your WordPress files are.
5) Run the WordPress Installation Script
Finally, the fun part! Now you can install WordPress using the lightening quick installation script. All you need to do is visit your domain name and you'll get the installation screen shown in the video if everything was done correctly.
This is Too Hard. It's Way Over My Head!
Don't panic! There's an easier way.
See if your web hosting provider advertises a quick installation system with their package. Head to their homepage and look around and see if they offer a 1-click or similar installation system. If they advertise it, it is highly likely they have an auto-installation system for WordPress. A few hosts that provide a system like this are InMotion Hosting, HostGator, and Bluehost.
Hire Scott to do this for you. Head over to my sign up page and order the "Lifetime" package for $97. This service provides a WordPress setup service as part of the package. Another great thing about my setup service is I'll setup your blog with a premium StudioPress Genesis theme setup exactly like their demo including all needed plugins which takes me about 20-30 minutes to complete but can take a person unfamiliar with WordPress days to accomplish.
Order InMotion Hosting through this link and send me your receipt. I'll do the auto-installer plus setup a premium theme just like #2 above.
Next Lesson – The WordPress Dashboard
Congrats! Now that you have WordPress installed and working, let's go over what the WordPress Dashboard looks like, how it functions, and what you need to know to start adding and managing your content.
As always, if you have a question about this WordPress installation lesson, leave a comment below!