I've been messing around with WordPress for most of my career and I've been through it all. Whether it be a free theme that had 5 forced encrypted sponsored links in the footer or a really great looking theme filled with horrible code, I've dealt with it all in my projects.
In my first WordPress blog post for the site helping you choose the right web host, I'd like to focus on the new love of my life, StudioPress Genesis and their child themes. You see, going through the many pains of switching theme after theme … after theme, I decided about a year ago to see what was available in the premium WordPress theme world. I grew tired of dealing with junk themes with bad code, exploits, forced junk sponsored links, and overall terrible quality and stumbled upon Genesis.
I've designed a few sites for clients and used the StudioPress Genesis framework exclusively and they all were very impressed with the quality of work I delivered. Thing is, without StudioPress, the job would have been much harder to accomplish. Genesis really makes things easier with their many child themes, with some themes geared specifically to niche markets.
Scott's Top StudioPress Themes for 2013
This listing is based on top styles for genres and not a "top 10" style list because when I'm looking for themes, I'm looking for themes specific to my needs.
Top Genesis Real Estate Child Theme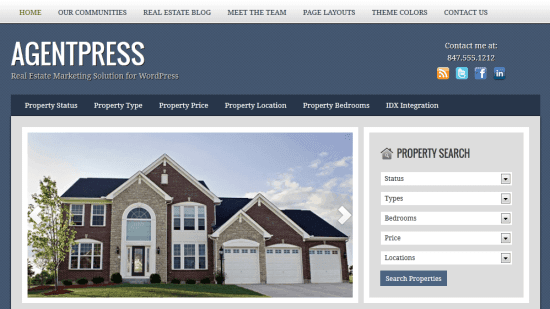 I've done a real estate blog for a client that turned out extremely well and I loved using this theme. This theme is great for real estate agents to broadcast their premium listings using the custom post types feature within WordPress.
If you'd like to go the lazy approach, you can use this theme effectively to display all listings specific to the real estate agent's coverage area using a licensed IDX plugin from various IDX providers including DSIdxPress from Diverse Solutions, IDX Broker, FlexMLS IDX, and many others.
Whether you go manual and list your agent's listings directly within WordPress or using an IDX solution (which can be very costly), AgentPress really gets the job done and does it extremely well.
The only downside to this theme is it isn't mobile responsive. Therefore, the sites generated with this theme don't look the greatest on mobile due to the forced full-width display.
See AgentPress in action. Click here.
Top General Purpose Genesis Child Theme
Yikes, even looking at my screenshot, I can feel everyone asking why? Don't let looks fool you, Prose is actually one of the better Genesis child themes available because it allows you to fully customize the look and feel, including alignment, colors, font sizes, typefaces and other critical design elements within the theme customization options. This is truly the best Genesis theme for beginners! Don't take my word for it though, see how Prose works with this awesome screencast done by Amy Lynn Andrews:
See Prose in Action. Click here.
Top News Style Genesis Child Theme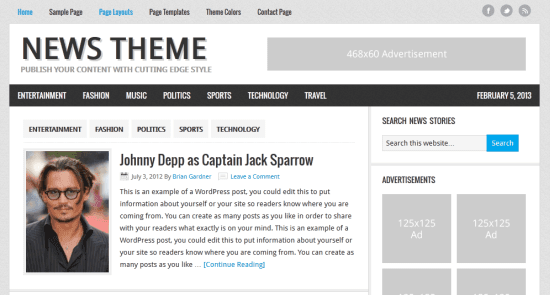 News Child Theme by StudioPress
If this theme looks familiar, it is because it is the base theme for my current site here. I love this theme because it is mobile responsive, lays out content beautifully, and allowed me to do the things I wanted to do easily without having to import code from other themes. As you can see from looking at my site, all themes on StudioPress are highly customizable and you are free to make your own modifications to your liking. The News theme uses a lot of features I choose not to use on my site like the eNews widget shown in the screenshot above.
The News theme is totally mobile responsive. If you want to see what that means, you are already on a site that uses the theme, all you need to do is narrow your browser window and see what happens with the content. I've added my own responsive elements and fixed a responsive issue I had with the main page that came with the theme. What I did is change the way responsive works with the "Featured" section so that the second column doesn't automatically drop out until it is truly needed. This is why I love these themes so much, you can make them do whatever you want if you know a little CSS!
If you have a lot of content to display, be sure to check out the News theme from StudioPress!
Top Photography Genesis Child Theme
If you are a photographer, I really loved this photography-based Apparition Child Theme the best because it really places your photos up front and center. Apparition automatically adds that nice circle effect to your photos but you can easily change and remove that effect if you want standard rectangular photos to be displayed.
Check out the Apparition theme demo here. Resize your browser width to see responsive effects.
Top Magazine Genesis Child Theme
The StudioPress Metro Theme was recently released on January 29th, 2013 and I really like what they've done with this theme. Some of the benefits include:
Mobile responsive
Super wide 1152px width
6 layout options
5 color styles
3 story locations
This is the widest child theme StudioPress has done and man do I love it. The style of responsive done is really remarkable because if your browser isn't fully wide enough to show the full 1152px width, the images and content simply resize to allow for the smaller width, yet, if you take the browser inward to the point of a mobile screen, the sidebar still drops out giving you the best of both worlds.
Had this design been available when I was working on this site, I'd likely use it as my base because of the extra real estate it provides your content. It'd allow bigger videos, bigger photos, and so much more.
Update on April 25th, 2013: Since writing this post, I did launch a full redesign of the site with this being how it looked before. True to my word, I used the Metro theme as the base because of the wider layout it offers. I basically stripped out a lot of the code I didn't want (like the background and header section) and made the theme my own iteration and love what I've done.
Be sure to check out the new Metro theme. Resize your browser to see the effects I spoke about above.
Top Mommy Blog Child Theme
I asked my wife what she thought about the child themes for a blog she was considering running, and she choose the Lifestyle theme for the soft colors and general style. The downside to this theme is it does not include mobile-responsive features yet. StudioPress spent most of the 2012 year relaunching many of the popular themes with mobile-responsive features so there's hope this theme will see an upgrade this year.
See the Lifestyle theme in action. Click here.
Top Corporate Genesis Child Theme
This is one of several corporately geared child themes available. I like this theme for the slider presentation with the black and white colors behind it. It really makes the slider pop out at you and forces the website viewer to read what you've included there.
Agency includes 4 color styles, 6 layout options, custom background, custom header, custom menus, featured images, mobile responsive, and WooCommerce integration. See the Agency theme for yourself.
Option for Designers and Developers
All of the above child themes were developed directly by StudioPress and part of what they call the Pro Plus Package. This package currently runs $349.95 and includes all of the themes I've featured here plus all of the many other themes that StudioPress designed but does not include those designed by the community. If you have an interest in this package, click here and see all of the themes which currently includes 44 themes in the package, a $1,200 value.
What's your favorite Genesis theme and why? Leave a comment below and share your thoughts!