Page Nav: Welcome (you're here) | Featured Shared Hosting | Featured VPS | Featured Dedicated | Other Hosting Recommendations | Hosting Training Courses | Latest Hosting News
Scott's Web Hosting Reviews – Welcome!
Hi there. My name is Scott Buehler and I'm the primary writer on WebHostingChoose.com. I'm here to help you legitimately choose the right web host for your needs. I've been making and hosting websites for well over 15 years (since early 1998) and have experienced the awesome, the good, the bad, and the down right scandalous. The site provides my web hosting reviews on all of the leading and most popular web hosting brands. I report real reviews from independent resources, both positive and negative, to help you make the right judgement.
My recommended web hosting companies, web hosting training courses, web hosting news and related blog posts are below. Need help choosing the right web hosting? Overwhelmed? Frustrated? Confused? I really would love the chance to help you, just send Scott an email.
---
Featured Shared Hosting Provider
Scott Buehler Recommends InMotion Hosting for Shared Hosting
InMotion Hosting has been nothing short of awesome during my three years of hosting with them. In fact, this website is currently hosted on InMotion Hosting servers and I've had zero issues with update, reliability, or customer service.
If you click the above image, you'll be taken to InMotion Hosting to review their services and offers. They love our site so much they have offered all WebHostingChoose visitors an exclusive 30% off discount and include a free domain registration with your business hosting purchase. Order InMotion Hosting here. Using my link activates the 30% discount and free domain registration.
[action-button title="Scott's InMotion Hosting Review" subtitle="Detailed review of InMotion Hosting and Customer Reviews" url="http://www.webhostingchoose.com/hosts/inmotion-hosting-review/"]
---
Featured Virtual Private Server Solution
Scott Buehler Recommends KnownHost for VPS Hosting
I currently own two (2) KnownHost VPS plans in 2 different datacenters and absolutely love their customer support. Every single time I've had an issue with my servers, all I had to do was submit a ticket along with my server credentials and they have jumped in and took care of the situation. There were times they spent several hours diagnosing a problem and even though I offered to send them money for their time, they happily declined and said "We don't accept payments for our support service and very glad to help you resolve this issue!"
The bottom line is this: They have the best VPS servers. Their pricing is extremely reasonable for the fully managed service they provide. The reviews they receive on public-access forums continues to be nothing but stellar. When there is an issue, I've always been amazed at their professionalism in handling the problem. Order your KnownHost VPS here.
[action-button title="Scott's KnownHost Review" subtitle="Detailed review of KnownHost and KnownHost Customer Reviews" url="http://www.webhostingchoose.com/hosts/knownhost-review/"]
---
Featured Dedicated Server Solution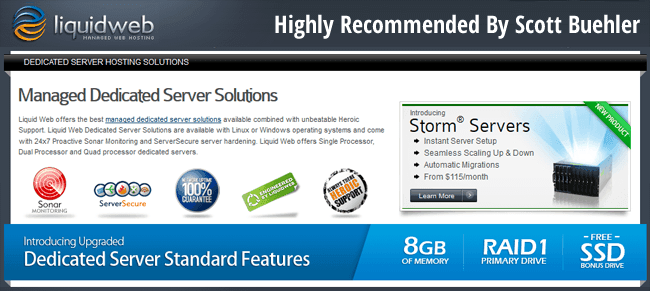 Scott Buehler Recommends LiquidWeb for Dedicated Servers
LiquidWeb has always been a very innovative and current-trends company that offers premium dedicated server hardware and solutions that will solve the heaviest demand you can throw at it. Currently, you can purchase dedicated servers for as little as $189/mo for a single core processor or go nuts with their beefiest server that offers a quad processor with 64 cores for $799/mo. There's plenty of choices in-between the cheapest and most expensive servers, so be sure to check out their site if interested.
[action-button title="Scott's LiquidWeb Review" subtitle="Detailed review of LiquidWeb and LiquidWeb Customer Reviews" url="http://www.webhostingchoose.com/hosts/liquid-web-review/"]
---
Other Hosting Recommendations